TIME FOR BED, BABY TED
It's time for bed, but where is baby Ted? He's not baby Ted! Try and guess what he is instead. Whether baby Ted is pretending to be a snapping crocodile, squeaky mouse, or prickly porcupine, in the end he is big boy instead and gets himself ready for bed. With a SNAP and a WRAP and a SQUEAK and a SNEAK, and a little help from his loving father, Ted gets into his pajamas, brushes his teeth, and snuggles under the covers for a good night's sleep in this charming bedtime story with lovely, winsome illustrations.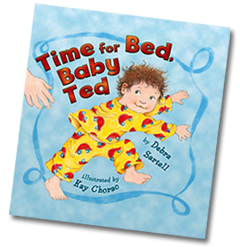 Learn more about the illustrator!
Visit Kay Chorao's website.
written by Debra Sartell
illustrated by Kay Chorao
Holiday House, 2010
ISBN 978-0823419685
Buy this book from:
IndieBound
Amazon
Holiday House
Barnes & Noble
Borders